What is a good credit score for home loan?
Credit scores are essential to qualify for a mortgage, but only if you are really bent on getting a particular type of loan. Many people may not be aware of this, but it is actually possible to get a mortgage even if you don't have any credit history. Many people have even been approved to buy a house through a home loan despite low credit scores.
Still, it's good to know that you will have a better chance to bag that mortgage if you have a FICO Score that's good enough for a loan. But what exactly is this number? What is the credit score needed to buy a house if you want to pick any house you want?
Today let's talk about what it takes to qualify for a mortgage and the number you can target to up your chances of getting approved for a loan.
Some Mortgage Types
To understand the importance and need for minimum credit score requirements, we will need to learn a bit more about mortgages.
In this section, we're going to talk about some of the most popular types of loans in the market and what score you need to qualify for them.
FHA Loan
The loan insured by the Federal Housing Administration is probably the most basic type of mortgage. This is because it is fundamentally meant for the benefit of first-time homebuyers, which is why it has very lax credit score requirements that you can get approved with a credit score as low as 500.
In case you would prefer to be allowed to make as little as a 3.5% down payment, though, you'll want to have at least a 580 credit score, keeping in mind that the lower the down payment you make, the higher you'll need to pay for interest over the life of your loan.
One important thing to understand about FHA loans is because you're getting this kind of loan due to a low credit score, you will need to pay for mortgage insurance. This is actually for the lender and not you, the borrower, just in case you default. This insurance is an extra payment that makes your loan more expensive, and it doesn't fall off no matter how long you've been paying for your mortgage.
Conventional Loan
If you don't appreciate paying for private mortgage insurance (PMI), and if we're honest, nobody actually does, you can opt to go for what's called a conventional loan.
Unlike the FHA loan, this is not a government-backed loan, and it has higher minimum credit score requirements that typically start at 620. (Some mortgage lenders can ask for a higher credit score.) However, it's good to know that with this type of loan, the higher your credit score, the higher the amount of money you can loan, and the better the mortgage rates you can get.
If you want to skip on the PMI, you will need to have at least 20% of the home's purchase price as a down payment to secure your mortgage, which is actually a good deal since you'll also be saving on interest.
VA Loan
If you have been on active duty or the spouse of someone who has, the good news is you might qualify for possibly the best loan option there currently is on the market.
The mortgage insured by the Department of Veterans Affairs requires no money down and has some of the best interest rates being offered in the industry. To qualify for a VA loan, aside from being a service member, you'll need to have a score of 640 or better.
USDA Loan
Finally, we have the USDA loan program, a loan guaranteed by the U.S. Department of Agriculture. On the one hand, there is actually no minimum credit score required to be approved for this loan type. But on the other, you need to buy a house in a rural area to become qualified.
The USDA loan also does not ask for a down payment. Although they can entertain your application, whatever credit score you have, you will want to have a score of at least 640 to get better chances of being approved. Manual underwriting will be required for home buyers with lower credit to see if they are really eligible to get a USDA loan.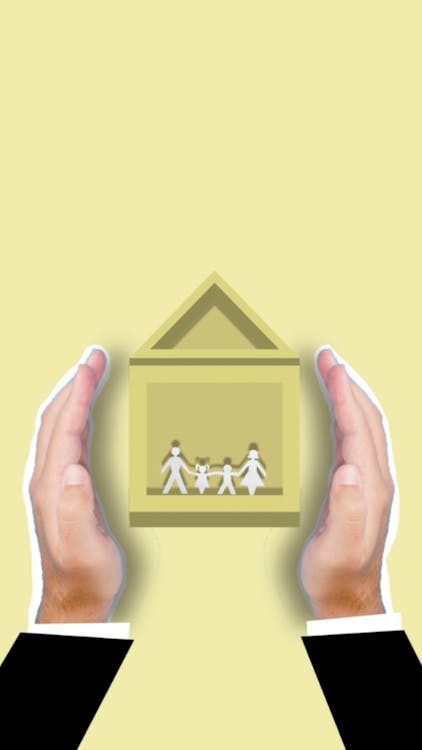 What to Prepare Before You Buy a House
Even now, in 2021, it is possible to qualify for a loan with a credit score as low as 500. Typically, however, people know that they need to get a higher credit score if they want to apply for a mortgage. But credit scores are really just one of the factors that affect your loan application. Depending on the loan type you are hoping to get, mortgage lenders may be willing to look at other characteristics in your file to give them a better assurance you deserve a particular mortgage rate or loan amount.
Here are other aspects mortgage lenders look at, as well as the documentation you'll want to prepare for before you start shopping around for a home loan.
Employment History
A mortgage can probably be the biggest financial transaction you'll ever make in your life. And because it involves a huge amount of money, lenders will want to make sure that you have what it takes to keep making payments for many years to come. Therefore, it is recommended that you only start thinking about home buying once you are already at this point in your life. However, this is not an option for many people because a home is an essential need that cannot be deferred.
If you already have a high credit score, this may not matter so much. Still, for potential borrowers with lower credit scores, you'll want to prepare as many proofs of your job history that will paint a better picture of your ability to pay a loan when you negotiate with a mortgage lender. Showing a stable income can drastically increase your chances and show lenders a salary trajectory that will better ensure monthly payments.
Assets
Even though they actually have the money to pay for a home purchase, some people prefer to get a mortgage to retain their liquidity. Sometimes, these are for investment houses to rent out or vacation homes out in the country.
However, you have to remember that for most loans out there, you will need to make a deposit to secure your loan, and if you plan on getting a conventional or traditional loan, this can get as high as 20 percent. It will not actually matter to lenders for FHA loans whether you'll be getting your deposit from your own savings or a cash gift from a relative. Still, for the majority of mortgages, you'll find, you'll need to show some capacity to make this initial payment as well as the monthly payments to come.
Mortgage Pre-approval
They say that one of the best steps to take before you even start shopping around for homes is to get a mortgage pre-approval.
This is like an initial application to the lender of your choice so that you can find out how much house you can actually afford to buy based on the amount the lender is willing to loan. It will also give you an idea of where you stand if you need to wait for much later before truly applying for a mortgage.
Once you have a mortgage pre-approval under your belt, you can also use this as a negotiating tool in case you find a house you don't want to let go of and realize that you are competing with several other buyers. Again, don't miss out on this chance because the last thing you want to happen is to fall in love with a house only to get rejected for the mortgage that will allow you to buy it.
The Best Minimum Credit Score
Just as each person has a unique credit history and background, everyone has their own needs and preferences. Unfortunately, this means that the ideal mortgage offer may not be the best loan option for another.
If you are ineligible for VA loans or USDA loans, the best option we would recommend is applying for conventional loans. On the one hand, it will be much easier to qualify for an FHA loan, but as we have discussed, getting a mortgage on a lower credit score can mean higher interest and more fees to pay for (PMI). On the other hand, if you can get a conventional mortgage, you will be able to choose any home you want, wherever you want, as long as it falls within your budget, and you can pay an upfront 20% deposit (to skip PMI).
However, even if 620 is the minimum credit score required to qualify for conventional loans, the last opinion will really depend on the lender. For example, some lenders might be willing to approve you with 620 if you make a high down payment, and some might not ask for more deposit if you have a score in the 700s.
We highly recommend that if you are thinking of a number to aim for that will give you a better chance of getting approved, you set the bar high enough but still at a doable level. In this situation, we suggest you go for as high as 720, which is actually more of in the middle range but good enough to help you qualify for the loan amount you need.